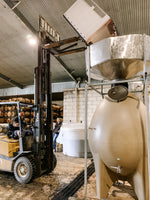 As you may know, our "Project Wines" are a big part of our winemaking ideology. They are a chance for us, a small humble Coonawarra winery, to push boundaries and make something new. We are proud to be the first winery in Coonawarra to make a wine that has been fermented in a concrete egg! And my goodness, the end result is otherworldly.
The Wine:
A Cabernet Sauvignon, fermented in a concrete egg, to be left on skins for a long time. 201 days to be exact.
The concept of a concrete egg dates back to the 1900s, taking inspiration from the use of Roman amphora in the late 2nd century BC. An old technique, in a new format. So you could say they took something old and made it new again, sound familiar?
Whole berries went into the egg on 25th of April 2019. The fermentation process creates heat which creates a current, encouraging the wine to move around. The egg shape (having no corners) is a huge bonus to this process and allows the wine to move around more freely than it would in a barrel or tank. This means a lot less intervention from the winemakers. The wine truly takes on a life of its own and doesn't require regular punch overs and topping. The thick stone walls of the egg create insulation for temperature control and help shape the fruit you would typically see from no oak but also adds the texture you would see in barrel-aged wines, without the addition of oak. The (very) extended maceration of two hundred and one days helped to soften and layer the tannins and create a beautiful texture to the wine at the same time.
The Label:
Bruna Vettori is an artist from Brazil. She is an economist with a creative soul and found a way to translate her feelings and connect with the world through art. In our opinion, this is exactly what Kate does every time she creates a wine. A little piece of her soul goes into each drop, and then we share that with the world and try to connect with people on a deeper level.
The design of the label is an expression of contentment. There is life in all of us, just like there is life in this wine. The minimal design brought together merely by black ink tells a story of joy through wine.
We have also incorporated the artwork into the cork. We asked Bruna to write some words in Portuguese that makes her think of wine and, she wrote what translates to "wines & affections", this made our hearts skip a beat. When asked why, she said, "I think there is a certain harmony between the two things, wine is to be shared, and enjoyed with loved ones". We thought that was beautiful, and considering we are only making such a small amount of this wine, we can only hope that each and every bottle will be enjoyed this way.
Most Importantly, The Taste:
"The wine reminds me of a lived in ruby red velvet couch, that's got stories to tell and is really comfortable.
A tunnel of blue fruits with some dark chocolate, licorice and spice grounded in damp earth.
The tannins feel like the ocean at dusk, with gentle rolling waves falling over your feet. Present but not obvious." Kate Goodman
Visually the wine is a bright Magenta, we've colour matched to
Pantone 207C.
This is a wine to sit with.
Drink while listening to
New York by St Vincent
.
You can buy the wine HERE.