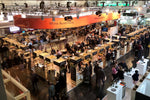 1 Colm, 60 meetings, 3 days, 58 hours, 23 coffees, 18 beers, 17 countries interested in Penley Estate – namely India, Iceland, Germany, Switzerland, Netherlands, Belgium, Taiwan, Russia, Sweden, Austria, Vietnam, Brazil, Turkey, Denmark, Kazakhstan, Spain, Japan.
ProWein is the world's leading trade fair for wine and spirits, the largest industry meeting for professionals from viticulture, production, trade and gastronomy. Three days of concentrated business and a highly promising ancillary programme prove that ProWein is THE meeting place No. 1 for the industry. 18 to 20 March saw the international wine and spirit industries get together at their No. 1 trade fair, ProWein in Düsseldorf. Over 6,870 exhibitors from 64 countries (2017: 6,615 exhibitors from 62 nations) provided a unique global overview of the current wine and spirits ranges. Over 60,000 trade visitors (2017: 58,500) made use of this platform to place orders and gather information. With these figures ProWein 2018 again hit new top scores. "Whoever has made their passion for wines and spirits their profession simply cannot afford to miss ProWein in Dusseldorf," says Hans Werner Reinhard, Managing Director at Messe Düsseldorf, summing up the phenomenon ProWein.
ProWein especially convinced the audience with its high international attendance and quality. One in two visitors came from abroad this year – travelling from 133 countries in total to Düsseldorf. Over 70% of visitors come from top or middle management. To all of them ProWein is indispensable. Just under 85% of visitors regard ProWein above all as an order platform, 90% appreciate the intense networking and to 95% ProWein is a key source of information. This year most visitors were especially interested in the new vintages from Germany, France and Italy. There were also top scores for the trade fair overall: one in two visitors confirmed having found new suppliers. Two thirds returned home with helpful information on trends and innovations. Just under 95% stated that they had fully achieved their
objectives at the trade fair.
Colm
Golbal Sales Manager
Its been a busy time in Coonawarra these past few weeks with vintage well under way and lots of visitors coming through  cellar door. Autumn is definitely upon us and its such a beautiful time of year down here.
Its always great to see our die hard regulars pop in, some have been coming for a decade or more, but just as lovely to meet so many new Penley followers as well. Everyone has a different story to share while
they taste their way through our extensive range. The newest labels on the Heritage range from Helena Perez Garcia have caused quite a stir amongst visitors and locals alike but as you well know as long as they are talking Penley we are happy with that. Likewise the 11 Barrels Wild Ferment shiraz has also been a great talking point.
With Easter and school holidays fast approaching we are looking forward to seeing lots of our loyal customers passing through our doors soon.
Sara
Cellar Door Manager
"Hey Erin, how would you feel about a work trip
to the Maldives?"
"Ugh, do I have to?!".....
10 days in the Maldives, training staff, hosting dinners, talking all things Penley, staying at some of the most incredible resorts I could ever imagine... I could think of worse ways to spend my time. I have been working with Penley for just over 2 1⁄2 years now and have been lucky enough to travel to many countries representing our amazing wines. This trip, would have to be the best so far. For anyone who has been to the Maldives, you will agree, it's another world over there. Being a Muslim country, the capital Male has practically no alcohol in sight, however the 220 island resorts pump out a lot of wine sales, or at least that's what we hope to see for Penley over the next 6 months! If you're ever lucky enough to head to the Maldives, please do not hesitate to ask me for tips/suggestions on where to stay (and also take me with you). 

Erin