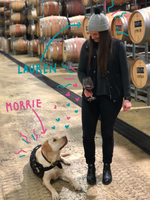 Welcoming our new teammates, Lauren + Morrie!
It is with great pleasure that we share the news of Lauren Hansen joining the Penley Estate wine team in July 2018.

Graduating from the University of Adelaide in 2012, dux of the Bachelor of Viticulture and Oenology course, you can understand why we want to share this news with you.
A local of the Limestone Coast, it was her cheeky comment at age 15 that gave Lauren the idea of pursuing a career in the wine industry.

A desire to "drink wine, travel, and be outdoors" lead to two days' work experience in the Clare Valley, which then lead to a gap year vintage, and gave her the love of wine to make it her career.
Lauren gained experience across a number of Australian wine regions, soaking up the nuances and subtleties of both soil and grape alike. A stint across the Tasman in New Zealand, followed by a vintage in the Kamptal, Austria furthered her understanding of what cool climate can look like.
Returning to Australia, Lauren again looked to broaden her knowledge and experience with vintages at Brokenwood, Bannockburn, Madden's Rise, and Adelina Wines, before moving back home to the Limestone Coast to work at Balnaves of Coonawarra, under the ful
l time tutelage of Pete Bissal, as Assistant Winemaker in 2015.
Passionate about all areas of the wine industry, not just behind the scenes, Lauren was an Associate Judge at the 2017 Limestone Coast Wine Show, and has just recently completed the Advanced Wine Assessment Course (AWAC) through the AWRI to hone her palate and judging skills.

Around the winery, Lauren is closely followed by her Instagram famous Labrador, Morrie - who is very much enjoying the life of a winery dog. (Which by all accounts makes it three dogs getting about the winery, vineyard and cellar door)
Ang and Bec Tolley happily shared the news with all of Penley Estate, saying, "the skill of Penley Estate's wine just got stronger, Lauren compliments Kate beautifully, not to mention the fact that another woman joining the business only makes us stronger again!'
We look forward to sharing her wines with you, and after tasting over 400 barrels of wine preparing for the latest vintages blending with Kate, she is looking forward to sharing them with you as well.