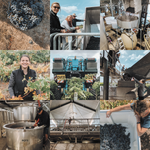 April has come and gone quicker than the blink of an eye…
While the rest of Australia managed to spin a 10 day weekend over Easter and Anzac Day, there was no rest for the winery/vineyard crew at Penley Estate. Vintage started for us on the 12/03/2019 and has only just finished. We managed to catch Lauren for a quick second and she gave us a wrap up of the 2019 vintage… safe to say she is ready for a weekend off.
Total amount of fruit processed in tonnes?

 696.6T
Breakdown of varieties?

 245.8T SHIRAZ, 55.4T MERLOT, 14.4T CAB FRANC, 380.9T CABERNET SAUVIGNON 
Best vintage ever?

 #vintageoftheyear 
How was the weather?

 These two kind of go hand in hand. It was a late vintage this year (perhaps more in line with the long term average) with some of our best parcels of Cabernet harvested in mid-April and the last pick on the 24th of April. The weather gods were shining on us, with minimal rain events causing pressure to pick before the perfect moment. Beautiful cooler autumn weather meant that the Cabernet ripened slowly, giving time to build up some cracking flavour. Its early days, but the wines are certainly showing promise. A few of the Coonawarra stalwarts would liken #V19 to 2004, and there is certainly some cracking wines from that vintage. 
Any interesting fermentation processes to mention?

 Vintage 2019 – the year of the trial here at Penley. SO many trials to really nut out the best way to do things. We kept sections of blocks separate to find the most promising sections of the vineyard, trialled different yeasts (and plenty of wild yeast ferments), trialled different malo bugs, shorter time on skins, longer time on skins, different fermentation vessels (yep, including our awesome cast stone egg), new oak coopers. All very interesting, and a there's lot of tasting to do to follow up these trials. Perhaps the most exciting ferment was our smallest batch. A tiny batch of handpicked, whole bunch Cab Sauv given a whole lotta love, watch this space. 
How many coffees did you consume?

 On average about 1.5 a day over vintage... the 0.5 because of the cold half coffees found at the weighbridge or in the cellar after getting distracted by incoming fruit or tasting ferments. 
How many beers did you consume?

 Too many. Good thing for all the stair climbing to fermenters during vintage or the waistline might be showing evidence of all the beers. Any breweries interested in sponsoring vintage would be welcome... actually that goes for coffee too...
Average hours worked by the cellar crew?

 58 hours a week
Longest running number of days at work?

 48 days
Number of online "treat yourself, its vintage" purchases?

 Whoops, got told off by the post office lady.
Parting words?

 Vintage is still going from the winery point of view! Grapes are all in and the lucky vineyard staff (well, just Phil…)  are on long service leave, but we still have full fermenters getting pumpovers every day for a while longer. Steve has a love/hate relationship with the press and Rich has a love/hate relationship with the barrels that he's lining up to be filled.