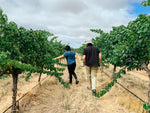 Well they don't call it Mad March for no reason... here at Penley things have been full throttle. From Germany to China, to celebrating women in all their glory, and most importantly, our 2019 vintage kicked off this month. We have picked all the Shiraz and Merlot, hand picked the Cabernet Franc (yum) and next week we'll be getting started on the Cab Sauv. We are about 50% of the way through, and everything is looking incredible, we are super pumped to share the 2019 wines with you.
In the meantime, let us tell you about our newest release of Project Wines that are now available on the back of the International Women's Day campaign.
More about our new release Project Wines.
This month our Penley-Away-Team tackled ProWein and who better to head there except none other than our No.1 global sales guru, Colm! Approaching something like this requires a few beers, some decent pork knuckle and, knowing Colm, at least a dozen cups of tea a day. With over 6,900 exhibitors of wines and spirits registered for this year's ProWein, from 64 different nations, the show was a huge success and a great opportunity to put a face to the name of Penley!