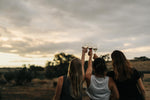 Can you believe we are already one month into 2019, only 11 months until Christm…. kidding, let's not go there.
2018 brought a lot of exciting times and high accomplishments for us here at Penley and we wanted to share a few of them with you.
In August we celebrated 3 wines over 97 points in the 2019
James Halliday Wine Companion
, 2016 Helios, 2015 Helios and 2016 Eos, and the rest of our wines all scored 90 or above. We are hoping for similar results this year… *fingers crossed*
Once again, Phoenix was listed in
Wine Spectators Top 100
, scoring 93 points and coming in at number 28. This was the second year in a row Phoenix made it in, so here's to three years running… you've got to dream big right?
In September we released our Spring Release Cabernet Franc, this is the second year we have made this fresh, juicy, contemporary expression of Coonawarra cabernet franc. We make this to show a different side to the wines coming out of this wonderful region. Our cab franc was awarded the Best Alternative Variety in the 2018 Limestone Coast Wine Show. Luckily we still have some cab franc left, so be quick and grab it while it's still here.
Kate Goodman, our very talented winemaker, was named Winemaker of the Year in the 2018 Women in Wine Awards. This was a huge honour for Kate and she looks forward to supporting the
Women in Wine Awards
this September in New York.
Last year we always celebrated our 30th year as a winery! Still family owned, and still going strong!
Valentine's Day
Mark your calendar for Feb 14 and celebrate love with great food and wine. To make it easy for you and we have put together a list of some of our favourite spots... just be sure to make a booking!
Around Adelaide
Press Food and Wine
(the burger is amazing, arguably best in Adelaide)
Salopian Inn
(the dumplings... OMG)
Chicco Palms
(pizza... classic!!)
Victory Hotel
(the view alone is enough to steal hearts)
Bar Torino
(sí por favor)
Stamps
(perfect way to impress on your first date)
Around Coonawarra
Pipers of Penola
(Penola's claim to fame)
New Releases
2019 will be an exciting year for new releases here with a couple in-particular on there way very soon! We are so excited to try something very new to Penley at of course to share it with all of you so stay tuned, palates at the ready!
Online Store (coming soon)
With the redesign of our website, our online store drew the short straw and sat the last few months out but we are so pleased to let you know that the wait wont be too much longer and buying our wine will soon be literally a few clicks away!