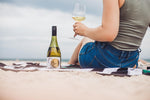 Aaaah February, a month of absolute chaos (organised chaos that is). This month there were adventures in Russia, visits from Canada and I'd say a slight lack of sleep at the winery. It's pre vintage and so when I asked our winemaker, Lauren about the state of the winery, there was no doubt or hesitation- it has to be really clean! Her exact words were "if it touches our beautiful fruit, it needs to be cleaned!" This means tanks, fermenters, hoses, pumps, fittings and floors. Even our newest member in the winery, Penola local, Luke Trotter will be joining us for a few months to run the crusher, fill the barrels and of course, be doing lots of cleaning. You've totally scored there, Luke!
There is also a bit of blending going on with some of our 2018 vintage wines. "They're looking absolutely cracking already, but we'll pop them back to oak for a little longer to rest before they go off to bottle later this year" says Lauren.
We trust Lauren's word and are super excited to see whats to come in the year!
Penley On Tour: Russia
This February the Penley away team heads 12,000KM's to Sochi in Russia. Just a short 34 hours up the road and across some water; Adelaide to Dubai to Moscow and finally Sochi, Ang & Colm arrive in the crisp -10 degree resort. Surrounded by flawless mountains and the vibrant energy of snow sports, they eventually settle in and make time for some well needed rest.
Colm recounts the trip:
"The road trip was Penley Estates first market visit to the Russian market with our new distributor JOIA Fine Wines & Spirits part of the larger NESCO group of companies. This visit was part of the first JOIA summit to be held in the Russia market. The four-day event was held in Sochi the Russian Alps at the 2014 winter mountain Olympic ski resort village of ROSA Khutor.   
"The summit involved 150 of JOIA top customers/distributors from all over Russia, a drinks conference on the Russia market with the top wine critics/sommeliers from Russia in conjunction with the attending wine producers, welcome dinners, gala tastings, a team building skiing event and ending with a Gala dinner on the final night."
As a keen traveller myself, there were a few questions I felt compelled to ask. Generic questions necessary.
What was the handiest piece of Russian you learned?
Ang. "Zdorv'ye- health and cheers"
What was the best cocktail you had on your trip?

Colm. "Expresso Martini. They had never heard of one and when Ang got them to make one, they loved it and are now going to put on there cocktail menu at Eskimos Bar in Sochi Village."
Ang. "It will be named the 'Sasha' (nickname for Alexandra in Russian) after me!"
And best food?
Colm. "The cold meats and cheeses were fab!"
Ang. "In village (Olympic) the best steak I have ever had which was on our last night."
Tips for long haul flights?



Ang. "Apple juice and my neck pillow.. neck pillows are the best!"




Colm. "Don't drink too much and only fly business class."
Ok, Colm… we will try and bear that last one in mind!
Most memorable view?



Ang. "The view from the top of the mountain."
Why should people visit Sochi?



Colm. "To go skiing and to the beach in the same trip."

Sum up your Russian experience in 3 words?
Ang. "Connection, Awesome, People"
Colm. "Amazing, Fun, Friendly"
And finally, I find that most of my trips seem to include a story that is almost unbelievable, did anything like that happen in Russia?
Colm. "On the second night, we had made our way on the lift to the bottom of the mountain and, while stood with about 30 members of our group, a man turned and began asking me about what I did. Assuming he was part of the group of distributors and customers, I explained about the winery I work for. When I asked what he did, he was short in his answer and although I can't remember his exact role, the answer ended with "…in Russian intelligence". I wish I could say this was the only uncomfortable moment I encountered except I appeared to be highly suspicious to the staff in passport control as well! They even got out a magnifying glass on my passport!"
So while Colm was having his little run ins with Russian intelligence, Ang (or Sasha) appeared to be an absolute celeb- and creator of their new favourite cocktail! I'd say we can call that a pretty successful trip. And for those who have been thinking about those slopes in Sochi, here are a few facts about The Rosa Khutor Alpine Resort:
Constructed from 2003 to 2011, it hosted the alpine skiing events for the 2014 Winter Olympics and Paralympics, based in nearby Sochi
The resort is 50 km (30 mi) east of the Black Sea at Sochi; the majority of the slopes at Rosa Khutor face northeast, with the backside slopes facing southwest.
The lower base area of Roza Valley at the Mzymta River is at an elevation of 560 meters (1,840 ft) above sea level.
The highest lift is the Caucasus Express gondola, which climbs to the summit of Roza Peak at 2,320 m (7,610 ft), yielding a total vertical drop of over a mile at 1,760 m (5,770 ft).
The main base area for skiing is at Roza Plateau at 1,170 m (3,840 ft), a vertical drop of 1,150 m (3,770 ft) from the summit.