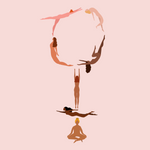 This year for
International Women's Day
, we decided that 24 hours is just not enough time to celebrate Penley women and all that they have achieved. So instead we are making the whole month of March 'International Women's Month'! We have selected 15 women we think you should know more about, some are from Penley and others are our friends in the industry.
Why?
International Women's Day (March 8) is about shedding light on the women's rights movement celebrating the social, economic, cultural and political achievements of women. Although we are privileged to be a part of such a diverse company where we work with many high achieving and strong female influences, we often take for granted their stories, how they got to where they are and why it is so important to continue to talk about the adversity they have overcome. And for Penley's owners, Ang and Bec Penfold Tolley, this all started with their ancestor, Mary Penfold (1820-1896).
In 1844, Mary and her husband, Christopher Rawson Penfold, planted a variety of crops on their property at Magill. This included some French grape vine cuttings they had carefully brought with them to Australia from England. They began making wine for medicinal purposes, which then grew to producing port and sherry, which led to clarets and Rieslings, eventually they were winning first prize at local wine shows. In 1870, Christopher was in ill health and passed away in that year, therefore Mary was forced to continue the management of Magill Estate. Her skills in viticulture and blending led ultimately to the development of Penfolds Wines. Her contribution has been greatly overlooked, with most of the credit going to her husband. For example, there is no entry for Mary in the Australian Dictionary of Biography, but there is certainly one for her husband, Christopher Rawson Penfold. Because this, of course, was back in the days when women had no role in business, could not get loans or mortgages and everything they owned belonged to their husbands. However, since Mary's passing in 1896, she was then recognized for all her accomplishments.
For Ang and Bec, Mary, was a great inspiration for them. Thus their reason and courage to continue this journey in the wine industry.
Ang & Bec Penfold Tolley
Penley Estate
Ang & Bec Penfold Tolley, the owners/directors of Penley Estate.⠀
Ang and Bec bought a block of land in Coonawarra with their brother in 1988. They planted some Cabernet and the rest is history. In 2015 their brother Kym retired and they could have sold Penley Estate, but that would have gone against grain- it wouldn't have been right to the Penfold women that came before them. Since then they have lead Penley to what it is today. Sisters sticking together and truly supporting each other ❤️
Mary Retallack 
Retallack Viticulture
BAppSc, BEd, PGradDip (NRM), GradDip (Viticulture), PCert (Arb), CPAg, GAICD, ARLF
Mary is an experienced board director, agricultural scientist and third-generation viticulturist. She has held a range of practical, extension and consultancy roles in the global wine sector over the past twenty-five years. Her research interests include environmental stewardship, agroecology, viticulture and plant protection. She is particularly interested in ways to build resilience and profitability into production systems, so both growers and the environment benefit. A PhD on 'the potential functional diversity offered by native insectary plants to support populations of predatory arthropods in vineyards' was completed recently.
She is Managing Director of Retallack Viticulture, a Director of Wine Australia, member of the Food Agility CRC, Strategic Investment Council, an editorial panel member of The Australian and New Zealand Grapegrower and Winemaker Journal and is recognised internationally as a Certified Practicing Agriculturist.
Mary's leadership capabilities and excellence in science have been acknowledged via the RIRDC Rural Woman of the Year, as a 100 Women in Australian Agribusiness inductee, Len Evans Tutorial Scholar, a recipient of the SARDI Women's Suffrage Centenary Bursary, Businesswomen's Hall of Fame inductee, a Winnovation Award finalist and a participant in the National Farmers' Federation, inaugural Diversity in Agriculture Leadership program. Mary is also an ambassador for PIRSA's Women influencing agribusiness and regions strategy.
Helena Perez Garcia
Illustrator
Helena Perez Garcia is a Spanish illustrator whose work has appeared across magazines, newspapers, packaging and books for children and adults internationally.
Her illustrations are conceptual, whimsical and rich in detail and colour. Helena's primary medium is gouache and her main sources of inspiration are art, literature, and cinema.
Some of her clients include Penguin Random House, Tate Publishing, The Financial Times, Reader's Digest and Il Corriere della Sera, amongst many others.
Kate Goodman
Penley Estate, Goodman Wines
This woman really needs no introduction. Kate has been our head winemaker since 2016 and has quickly become an integral part of our team and story. ⠀
Kate began her winemaking career in 1992 as a cellar hand at Wirra Wirra and went on to work for wineries such as Tim Knappstein and Punt Road before starting her own wine brand, Goodman Wines. ⠀
What is lesser known about Kate is that in 2017 she was diagnosed with breast cancer. She is a fighter though, and kicked cancer's ass. By the end of 2018 she was being awarded Winemaker of the Year for the 2018 Women in Wine Awards. ⠀
⠀
You are an absolute star Kate and we can't wait to see what else you do!⠀
Peta Baverstock
Curvée Co Wines
Peta gained a Bachelor of Agricultural Science (Oenology) from Adelaide University, graduating in 2000 and have spent almost two decade focusing on Sparkling winemaking.Her experiences include such prestigious wineries as La Crema in Sonoma County, California; Vasse Felix, Margaret River; Domaine Chandon, Yarra Valley and the home of sparkling wine, at Bollinger in Champagne.She became an integral member of the Constellation Wines Australia Sparkling team from 2003 for seven vintages, under the direction of Chief Sparkling Winemaker Ed Carr, which she notes has underpinned my winemaking skills and was incredibly motivating and inspiring.Upon moving to the Southeast in 2010, she then had an opportunity to become a Freelance Winemaker and start Cuvée Consult enabling her to make base wines for a small amount of growers from within the South East and around Australia.After being the only South Australian finalist, in the Professional section of the 2006, 2010, 2014 and 2016 Vin de Champagne Awards, she has decided to champion her love of this style by making the best Sparkling Wine under my own label Cuveé Co Wines from the Limestone Coast.Currently named in the 'Top 50' for the 2019 Young Gun of Wine (YGOW) competition, now in its 13th annual edition after launching two medal winning ultra-premium wines in November 2018. A woman who is absolutely killing it!
Erin + Sophie
Penley Estate
Marketing + Design Extraordinaires… Well, at least we think so... ⠀
We are the ladies behind the social media, digital marketing, design, website, the production of all our packaging, the awesome jokes in our monthly blog and most importantly we are responsible for this campaign we are currently running to celebrate women!⠀
We are both so thankful for the women who have come before us and paved the way, both of us have always been supported by the women and men we have worked with, and as we grow in our careers we can't wait to do the same for young girls in the future.
Kirsty Balnaves
Balnaves of Coonawarra
Kirsty attended University in Adelaide where she studied Business Management and Marketing. In 1990, she joined the family business (Balnaves of Coonawarra) and is now responsible for the financial aspects of vineyard management and contracting, winery contracting and making and selling Balnaves wines. ⠀
Kirsty is a current member of the South Australian Wine Industry Association Executive Committee since 2013 including Member of the Project 250 committee, Member of the Coonawarra Vigneron's Association Executive for 15 years, including a period as Vice President, she is also a Board member of the Penola and District Community Bank – Bendigo Bank, Volunteer for Meals on Wheels and volunteer on the Penola Community Wellness committee. ⠀
In 2018 she was named as a finalist in the Australian Women in Wine Owner-Operator of the Year Awards. The award recognises "the ladies who run the show"– wine business owners or operators who have made an outstanding contribution to their business in the Australian wine industry.⠀Kirsty's passion is running a successful family business and giving back to the community.⠀
Women at Balnaves of Coonawarra – 50% of people who work at Balnaves are women. They make wine, sell wine, drive tractors, pack wine, deliver wine, work in the lab, do vineyard work, work in the office. They all do fantastic work and make a big contribution to the family business.
Kath + Lucy
Penley Estate
Penley's finance and numbers gurus and much more than just your average bean counters. ⠀⠀
Kath studied at Flinders University and completed a Bachelor of International Business in 1998, closely followed by the completion of a Bachelor of Commerce in 2000. She then went on to gain her professional accounting accreditation through the Institute of Chartered Accountants Australia and New Zealand in 2005. Having worked for some of the largest international banking institutions and corporations in both Sydney and London, she has a wealth of experience.⠀
With a passion for travel, new experiences, thinking outside of the box and challenging the status quo of the typical "accountants" image, she is the perfect fit here at Penley.⠀
Currently studying for her MBA, she is very excited and proud to be working for a company that supports and encourages women to push the boundaries. Having been given creative control in the label design and packaging concepts for the next project wine for Penley, she is also super excited for its release on 1st April (hope you love it as much as she does 🍷)⠀⠀
Lucy has been working in finance for 15 years but her secret talent lies in her photo taking skills. If you have wondered where all of our awesome photography comes from, look no further.⠀
@lucyromanophotography
⠀
Virginia Willcock
Vasse Felix
As a teenager, Virginia saw the happiness and joy wine brought to her parents and their friends after a hard day's work in their small vineyard. It was here she decided winemaking was going to be her career. "I loved the idea of growing fruit, and then turning it into something that could be more beautiful and would make people happy."⠀
Virginia Willcock is now the Chief Winemaker behind some of Australia's most critically acclaimed wines, at Margaret River's founding wine estate,
Vasse Felix
. She joined as Chief Winemaker in October 2006.⠀⠀
Virginia is one of the most awarded female winemakers in Australia, having been named 'Gourmet Traveller WINE Australian Winemaker of the Year' in 2012 (she was also a finalist in 2010), 'Winemaker of the Year' by The West Australian Good Wine Guide 2013, and 'Winemaker of the Year' in the 2017 Australian Women in Wine Awards. Virginia was also nominated as 'Winemaker of the Year' in Wine Enthusiast Magazine USA's 2014 Wine Star Awards, and 'Winemaker of the Year' in the ASVO (Australian Society of Viticulture and Oenology) Award for excellence 2016. ⠀⠀
What a woman! Thanks for being a part of us celebrating women this month!
Sara Fletcher
Penley Estate
Some of you may recognise Sara from our Coonawarra Cellar Door. We have had the pleasure of her working with us for 15 years and sadly for us this is her last week at Penley Estate! Having spent 20 years in the wine industry working in many regions and covering most sectors from vineyard, winery to sales, Sara is passionate about sharing the Penley wines and story with cellar door guests who visit Coonawarra.
She also loves spending time doing "boys things" with her three boys and little dog Elsie, going to the gym and running for a little sanity in her life.
Samantha Connew
Stargazer
Amongst her many achievements, in 2007 she was awarded 'International Red Winemaker of the Year' at the prestigious International Wine Challenge in London, and in 2008 she was a South Australian finalist in the Telstra Business Women's Awards. She has served on the boards of several regional associations, the Australian Society of Viticulture and Oenology and was a founding advisory board member of the Australian Women in Wine Awards.
She is a highly respected wine show judge and has been a Panel Chair at many regional and capital city wine shows, having completed both the Advanced Wine Assessment Course and the Len Evans Tutorial.
In 2014 she was appointed Chair of Judges at the Sydney Royal Wine Show, the first female and the youngest judge in that position.
In 2016 she acquired a small vineyard and olive grove in the Coal River Valley outside of Hobart and is busy planting more vines and learning to drive a tractor.
An accomplished and inspirational person to us!
Karen Tonkin
Penley Estate
Karen has many years' experience in the wine industry, her first vintage was in 1987 at Penfolds in the Barossa, her home region.
After many years in the Barossa she moved to Coonawarra with her winemaking husband and has continued to be involved in the wine industry, owning and operating an olive grove and raising her two children.
She is currently up to vintage number 5 with Penley. 
Sarah Crowe
Yarra Yering
After studying and working in Horticulture Sarah began her wine career with vineyard work in the Hunter Valley. Within three years, completely unplanned, she had become Brokenwood's Assistant Winemaker. Building on her experience and enjoying the wines of the world Sarah completed International harvests in both Oregon; focusing on Pinot and Chardonnay, and the Rhone Valley; focusing on Shiraz and Viognier. After 12 years in the Hunter Valley Sarah was looking for a new challenge and decided to head for cool climate viticulture.

The job opportunity at Yarra Yering was too good to refuse and Sarah made the move to the Yarra Valley joining the team in September 2013 to focus on one single iconic vineyard site. The vineyard is central to wine quality and Sarah considers the Yarra Yering vineyard to be the best she has ever worked with. The release of her first wines, the 2014 vintage saw her named James Halliday's Winemaker of the Year 2017.

Now in the role of Winemaker and General Manager, Sarah hopes to continue to build on the reputation that Dr BB Carrodus started in 1969 with the first vineyard plantings at Yarra Yering.
Lauren Hansen
Penley Estate
Graduating from the University of Adelaide in 2012, dux of the Bachelor of Viticulture and Oenology course, you can understand why we are over the moon to have Lauren on board.

A local of the Limestone Coast, it was her cheeky comment at age 15 that gave Lauren the idea of pursuing a career in the wine industry. A desire to "drink wine, travel, and be outdoors" lead to two days' work experience in the Clare Valley, which then lead to a gap year vintage, and gave her the love of wine to make it her career.

Lauren gained experience across a number of Australian wine regions, soaking up the nuances and subtleties of both soil and grape alike. A stint across the Tasman in New Zealand, followed by a vintage in the Kamptal, Austria furthered her understanding of what cool climate can look like. Returning to Australia, Lauren again looked to broaden her knowledge and experience with vintages at Brokenwood, Bannockburn, Madden's Rise, and Adelina Wines, before moving back home to the Limestone Coast to work at Balnaves of Coonawarra, under the full time tutelage of Pete Bissell, as Assistant Winemaker in 2015.

Passionate about all areas of the wine industry, not just behind the scenes, Lauren was an Associate Judge at the 2017 Limestone Coast Wine Show, and has just recently completed the Advanced Wine Assessment Course (AWAC) through the AWRI to hone her palate and judging skills.
Vanya Cullen
Cullen Wines
Vanya Cullen has been winemaking at her family's Wilyabrup estate since 1983. She was appointed to Chief Winemaker in 1989 and Managing Director in 1999. During that time she has been rigorously experimenting in the vineyard (especially with soil and trellis management) and in the winery all the while looking to give her wines greater complexity. Her palate has been honed by judging throughout Australia and overseas, and by her continuous pursuit of a thorough knowledge of the wines of the world. 
Over the past decade, Vanya has transformed her family firm from one of Margaret River's best into one of the country's premium boutique wineries. Cullen Wines while remaining family owned has since evolved making quality wine from a certified Biodynamic, Carbon Neutral and naturally powered estate. Exemplary viticulture lies at the heart of her success but so, too, do care and thorough attention to detail in the winery. 
Vanya was the winner of the 2000 Qantas/The Wine Magazine Winemaker of the year. She was the third recipient of this prize, the first Western Australian and the first woman to win the award. Vanya has judged at wine shows in every major city in Australia. In 2008, she was awarded the UK Drinks Business Magazine "Woman of the Year 2008" and in 2011 the "Green Personality of the Year" for her commitment to the wine industry and for demonstrating that you can operate a successful business while looking after the environment. 2013 was Vanya's 30th year of winemaking at Cullen Wines and 2014 celebrated Vanya's 25th anniversary of becoming Chief winemaker at 
Cullen Wines
. This year Vanya was inducted into the Australian Business Women's 2015 Hall of Fame which honours and celebrates Australian female business owners who have been exemplary in their industries, are trailblazers and demonstrate inspiring and aspiring business journeys.
The Men of Penley
Penley Estate
Well today is the last day of International Women's Month celebrations, thank you for following along and celebrating all these wonderful women. Today we thought we would celebrate the men of Penley! Their support and encouragement makes our days even better! Thanks boys!