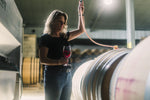 Kate Goodman – our head winemaker – is driving from McLaren Vale to the Coonawarra winery and she's just stopped to buy a 'bloody horrendous' takeaway coffee. 'It's a first-world problem, I know,' she says, 'but if I've cut my coffee right back and if I'm going to only have one a day, then surely I deserve a good one.' And given the kind of magic she produces in the vineyard, we reckon she deserves the world. Or, at the very least, a drinkable flat white.
You're almost at the winery: what's the first thing that you do?
To be honest? I'll probably have a coffee. And check in on everybody, of course. I'll walk around and see how the team is, just making sure that everyone is okay, then I'll take a walk through the vineyard to see where all the different blocks are at. 
What's happening in the vineyards at the moment?
We've been doing a lot of reworking so it's always great to go and see how things have progressed. We've spread a whole lot of compost in the past few days and the vines are beginning to bloom and emerge from dormancy, so this is always an exciting time of year. They're just on the cusp, so there could be some bursting of shiraz, but maybe not cabernet just yet. 
And what about this year's wines?
There'll be plenty happening in the tasting room. We're going to be tasting all of our 2020 parcels, which means we try every wine to see how they're travelling and give them ratings. We decide which ones we are still happy with and which may need some attention, then we repeat the process in a few months' time. It's a good way to identify the top parcels because you find that they float to the surface every time we do this. I've also just signed off on our first project wine for the year, which I'm really excited about. It's a totally new product – a very contemporary take on a classic Aussie shiraz/cabernet blend. 
What's coming up next for the team?
The big thing we have to do in the next couple of days is sign off on our 2019 Estate range, so that's the Helios, Eos, Steyning and Chertsey wines. They're being bottled very shortly, so we're just fine-tuning everything and having a final look. After that, we're coming into the busiest time of year for the vineyard. We've had awesome rain this year and Hans, our viticulturist, needs all hands on deck helping with the vines. 
Frost patrol is going to be critical in the coming months so there's going to be a lot of weather watching, particularly for Hans and his team. If we get a frost, the buds will burn off and we won't get a crop, so it's incredibly important. The vines are starting to grow and there'll be flowering in November, which is when the crop is determined and will come around sooner than we realise.
How have you found the disruptions thrown up by 2020 so far?
It was tricky during harvest because that was during the first wave, when everything shut down. We split into defined vineyard/winery teams, so if one team went down the other was still okay. We also had to close our cellar door, which hasn't reopened yet, though quite a few in the region have.
With 2020 quickly drawing to a close, what are you looking forward to for 2021?
Oh gosh. Freedom? Hopefully freedom. From a Penley perspective, I always look forward to harvest, which will be coming around again before we know it. But for me, personally, it's going to be getting back to Victoria and seeing a whole lot of friends then heading to New South Wales to see all my family.