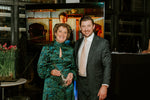 Hold onto your wine glasses, because we've got some electrifying news that'll make your taste buds tingle with excitement! Our incredible head winemaker, Kate Goodman, has soared to the stars and snagged the coveted Australian Winemaker of the Year 2024 award from none other than the legendary Halliday Wine Companion. Cue the confetti cannons and pop those corks! 
Kate's win is a resounding victory for all of us who share a passion for the magic that swirls in each bottle of Penley wine. She's the trailblazer who's taken the reins at our winery in Coonawarra, and boy, has she been making waves! But that's not all, we, as a winery, were also a finalist for the Australian Winery of the Year award. 
So, what makes Kate Goodman such a force to be reckoned with? With degrees in Biomedical Science and Oenology, Kate's been on a wine adventure that's taken her from McLaren Vale to Great Western and the Yarra Valley, before landing her back in the heart of South Australia at Penley in 2016. Her magic touch turned the Phoenix Cabernet Sauvignon into an icon, and she's been dishing out daring blends and exciting wines that we love. 
So, let's clink those glasses high, raise 'em up to the stars, and toast to Kate Goodman – our rockstar winemaker, our fearless leader, and the beating heart behind Penley's magic. Here's to crafting more stories in every bottle, pushing boundaries, and spreading joy, one sip at a time.
Cheers to Kate, to us, and to the incredible journey that's only just begun! 🥂🌟