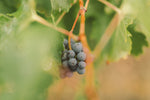 We are excited to announce that our vineyard & winery has been certified with Sustainable Winegrowing Australia! We take pride in producing the best possible wines while minimizing our impact on the environment, and this certification is a testament to our commitment to sustainability.
Growing and making wine sustainably is a holistic approach that considers the environmental, social, and economic aspects of the craft. We're pleased to be part of this program, which allows us to document and share information about our sustainable practices, fostering a greater understanding of what's happening in the vineyard and winery.
In getting certified, we've implemented a range of sustainable practices:

Water - We use Athena transpire probes and Sentek soil moisture probes to monitor our water usage. We keep detailed records of every irrigation, including the use of bore, rainwater, and wastewater. We have telemetry installed for real-time monitoring, so we can adjust our irrigation practices as needed.
Energy - We have calculated our energy usage and are working to minimize our carbon footprint.
Biodiversity - We are committed to Ecovineyards and preserving the natural habitat of our vineyard.
Land and Soil - We are continually improving our land and soil, using detailed soil mapping and composting. We use "continuous sward" cover cropping to increase soil organic matter. We are involved in industry research into the benefits of mulch, compost, and measuring soil carbon.
Waste - We track our waste through the program and are committed to minimizing our waste.
People - We are active contributors to our community, serving as committee chairs, future leaders, and scholars. 
Our mandate is to be hands-on and nurturing, give something back, and lead in every aspect of the wine experience. We are committed to sustainability and are proud to have achieved this certification. Thank you for supporting our vineyard and our commitment to the environment.
We hope you'll join us in raising a glass to sustainability!