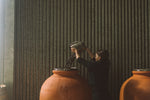 Whole bunch Shiraz and Cabernet Sauvignon, Cabernet Franc and field blends, concrete fermented, extended skin contact Cabernet, a variety of Merlots, Chardonnay fermented in Amphorae and Piquette. These are all wines that have found a place within the Penley Project range. Wine has been on our tables for centuries. Over the course of time, techniques, styles, varieties and regions have evolved – just to name a few changes.
At Penley, innovation and creativity sit at the core of our wine quality. We aspire to move beyond the status quo - not for the sake of change, but in order to make more delicious wine.
Our Project range is the beating heart of our innovation and creativity. These wines are not necessarily about creating new things – they're about finding new ways to express what already exists. You might pose the question; if it's not broken, why fix it? But when we stop asking questions, we are assuming we have reached the end point.
Penley's first Project wine was a Cabernet Franc. This variety has grown in our vineyard since the 1980's as it's a staple varietal within our savoury Chertsey Blend. At the time we asked ourselves, what if we made it like the styles from France's Loire Valley? Bright, vibrant, crunchy and fresh. This entailed experimenting with our winemaking techniques. The result was a delicious spring release in a style demand around the globe, wrapped in lip smacking Penley packaging. After a number of years trialling techniques with the wine within in our Project series, Francis was born today stands within our core range.
Cabernet Sauvignon runs through the veins of Penley, its influence pulsing through every limb and decision within our winery and wider business. We're convinced it can be more than our age worthy Helios, so we continue to play with the variety to see how far we can push it. A couple of our recent projects are perfect examples.
Cabernet is a variety with plenty of tannin in its skins. In the winery, we have been experimenting with extended skin contact, moving beyond weeks to months on skins. It's certainly a process where you need to hold your nerve. As time goes on and the tannin builds, it then sort of drops back into the wine. With each year we get braver and hold out longer. The resulting wine is our EGG Cabernet, a savoury, textural expression of Cabernet that sees no oak contact.
The flipside to this "egg wine" is our preservative free Cabernet. Young, fresh and fruit driven, this Cabernet expression taps into the natural wine sphere. Gently fermented to extract minimum tannin and maintain maximum freshness, it's held cold in stainless steel. This wine was a real toe in the water for Penley, as there are NO added preservatives whatsoever. The opportunity to experiment reduces the risk of stagnation. Creativity instills curiosity, challenges existing mindsets, and builds confidence. For Penley this means one thing; the opportunity to make more delicious wine.
Winemaker Lauren Hansen adds ––
We are always searching for better ways to make wine across the entire portfolio. Forever tweaking, we believe it's the little 1%ers that help us to stand apart from the masses.
There's no sitting still at Penley, no resting on our laurels or previous vintage efforts and accolades. Questions are our constant. What's next? What can we do better? What if we push this a little further? What worked? What didn't?
The projects are an extension of this philosophy - the winemakers' playground - where no idea is too wild, and no boundary is left unchallenged. It's all about pushing and challenging the status quo in search of new and potentially better ways to do things. How do we know we're doing things the best way if we don't continually test and try new things?
When we move outside our winemaking comfort zone, some failure is inevitable - and this is very much encouraged – to push the envelope so far that we occasionally fail. This guides our direction, tweaking the project where necessary in the following vintage.
The Project range is ever evolving. Often an idea starts with a "what if" or "imagine if this worked". We're not afraid to break the mould. When people say that Cabernet is a one trick pony, we don't listen. Yes, Cabernet can be light and juicy. It can also be fermented with whole bunches.
Here's to the crazy, the unique and the marginal. There's more diversity at the edges of ecosystems, and it sure feels like there's more diversity at the edges of our comfort zone. Come join us, it's a fun place to be.