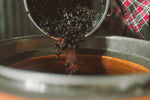 Originating in the southwest of France, Cabernet Sauvignon is the world's most planted grape variety. it has built a reputation for producing wines that are big, bold, robust and age worthy. Whilst Cabernet excels in this style, we would argue that it has been pigeonholed into a box, had its wings clipped, allowing only a single expression to be taken seriously. 
At Penley, it is our belief that, given the opportunity, Cabernet Sauvignon can be many things. It is not a one trick pony and we've been on a mission to allow Cabernet to express itself in as many styles as possible. 
When Kate first walked our vineyards in 2015 and tasted the wines there was a degree of disappointment that there was a 'sameness' to them. The DNA that comes from the site by variety combination was masked. Sure each wine was different , but they were essentially all big bold Cabernets. This sparked a journey of discovery into the personalities of Cabernet, the first playbook was closed . 
At anyone time, Penley can have 7 different expressions of Cabernet on the shelf from our vineyard in Coonawarra. If you line them up and taste you will see a thread of commonality, sort of like family members that have some similar features that connect them but they are not identical. Just different in key features or personalities. 
Over time we have learnt that Cabernet doesn't have to be steeped in tannin, supported by oak and put away for years to be delicious. Like other varieties it can produce a juicy, fragrant, fun, buoyant, 'light on its feet', young wine. A perfect example of this is our 2022 Preservative Free Cabernet Sauvignon, a wine that never sees oak, bottled young and without conventional preservatives, it is beyond doubt a highly modern expression of what can be done with this very traditional variety.
Texture, mouthfeel, layered, flow – these are words used to describe how a wine feels. Regularly hijacked by makers of Chardonnay and Pinot Noir, they too can describe Cabernet Sauvignon. Penley's concrete Egg Cabernet is a wine built around the natural tannin from the grape. Months of skin contact produces a creamy complete textural experience, demonstrating that oak is not always required and in fact sometimes best left on the sidelines. Definitely medium bodied perfumed and expressive.
Winemaking techniques abound from the run of the mill, to the bizarre. Fermenting whole bunches of grapes has been around forever, but it is not common in the Cabernet realm – we asked ourselves why not and gave it a try.The resultant wine, our whole-bunch Cabernet is fresh, textural, epically fragrant and tasting of purple fruits and flowers through its core.
Yet another expression of this tired old fashioned variety – are you getting the drift, it doesn't have to be. The respect we have for this variety means there is always room on the bench for a serious, intense, layered, flavoursome, expression/personality, that will get even better with a few years under its belt. In the style of our Helios you will be rewarded with our vision of serious cabernet. Dense, dark, brooding medium to full bodied and a lifetime ahead of it. 
For many of us finding joy in the everyday is the ultimate reward. A wine that pairs with life, is true to its varietal origins, has plenty of flavour, a little bit of tannin and a touch of oak. Our Phoenix Cabernet is the perfect partner to a Wednesday night. 
So you see here at Penley, we firmly believe that Cabernet Sauvignon is not a one trick pony in fact it is quite the chameleon In an effort to firm up our view that it can be both serious and light hearted.