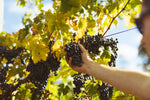 Penley and the EcoVineyards Initiative
Hundreds of years ago, organic viticulture was a given. But the pursuit of delicious wine in the modern era of new world wines is faced with an ongoing battle between monetary and environmental costs.
The tension between chemical and organic, machine and man is constant. For Penley and our viticulturist Hans Loder, our environmental impact is increasingly front of mind.
Penley's vititculturist Hans Loder manages our 80 hectares under vine, and insists "in order for land to remain viable and vineyards to display resilience to extremes, we need to work smarter and give something back!"
Enter: The EcoVineyards Initiative. Led by the Wine Grape Council of SA and funded by the Australian Government's National Landcare Program, the program was founded in our Coonawarra region in 2018, with Penley among the first group of EcoGrowers.
The initiative integrates soil science, Integrated Pest Management (IPM) strategies, precision viticulture and more, with the goal of improving sustainable vineyard management for this generation and the next.
Biodiversity as ground zero
One of the key focuses for Penley in collaboration with the EcoVineyards Initiative is to improve our vines' resilience to disease and pests through the use of ecosystem services and increasing vineyard biodiversity. Using ecosystem services and increased biodiversity to reinstate a natural balance and improve the resilience of the vineyard ecosystem is imperative in our long-term plan to sustainably manage the Penley vineyards.
As it stood prior to commencing the project, Hans' existing biodiversity strategies across the vineyard include integrated pest management strategies, and a concerted effort to reduce chemical usage, choosing organic products and focusing on the timing of application.
The Ecovineyards Initiative connects Hans to experts pushing innovative viticulture management, including celebrated viticulturist Dr Mary Retallack. Working with Dr Retallack and the EcoVineyards team, Hans was able to establish a strong scientific research structure around the vineyard improvements, helping us to monitor and benchmark both beneficial insects and and pests.
The Penley vineyard acts as a regional focal point - a guinea pig as it were - with four active EcoVineyard locations across the property. The "collabriculture" nature of these progressive projects means our Coonawarra neighbours can quickly gain clear knowledge based upon our own research and findings. We're all friends here!
Insectary sites
Our key focus as part of the project is to preserve local ecosystems and establish functioning insectary areas, improving the health of the vineyard and the wider region.
Insectary sites are deliberate plantings that attract beneficial insects to the area adjacent to the vineyard. These insect populations are then encouraged into the vineyard through use of mid-row vegetation that provides either: shelter, nectar, alternative prey, pollen to attract and nourish insects that predate on pest species such as light brown apple moth.
Pest management might be front of mind, but these insectary plantings and cover crops incorporating native grasses can also act as shelter belts, wind breaks, and as a way to preserving the regions unique flora, fauna and symbiosis with soil and water.
Long-term Impact
Hans believes that based on the project findings, insectary areas will form an integral part of any new vineyard plans, encouraging viticulturists to return to organic principles like those employed in many of France and Italy's most revered regions; vineyards as part of a wider ecosystem grown in symbiosis with other plants to shape an environment.
Thanks to early success, the EcoVineyards project has been pushed out nationally.
As a business, our findings from the EcoVineyards Initiative will enable us to find the most success each vintage, ultimately allowing us to produce high quality wine, support our business and in turn protect our vineyards.
For Hans, participation in the project has added incentive; allowing him to gain a greater appreciation of flora and fauna, and improve his general biodiversity knowledge of the Coonawarra region that he calls home. It's this holistic, environmental focus from our vineyard and winemaking teams and commitment to "leading in every part of the wine experience" that's paving Penley's way into the future.