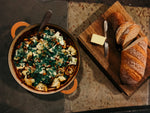 Slow Braised Lamb, Butter Beans, Roasted Cauliflower, Green Olives, Almonds & Feta
You may have heard of a little joint on the corner of Main and McMurtrie Rd in McLaren Vale called the Salopian Inn. The food is to die for! We managed to get a hold of the legend herself behind these marvellous creations to put together a recipe for you to experience a little bit of the Salopian at home!
Serves 4 adults
In the morning:
Ingredients
100ml extra virgin olive oil
Sea salt and black pepper
300-400g lamb shoulder chops (approximately 2)
1 large onion
5 cloves garlic
1 tsp ground cumin
1 tsp ground coriander
1 tsp smoked paprika
400g butter beans
800ml chicken stock
2 bay leaves
5-6 sprigs of hard herbs (oregano, rosemary, thyme, sage)
Method
In a large wide and heavy based pan heat the olive oil.
Season the lamb chops with sea salt and pepper and cook on both sides until golden brown. Remove the lamb from the pan add the onions, garlic and all the spices.
Cook the onions and garlic until soft but don't burn the spices.
Add the lamb back into the pan with the beans, chicken stock, bay leaves and herbs.
Cover the pot with a well-fitting lid or foil and bake at 110°C for 7-10 hours.
A slow cooker on a low setting will also do the job.
When you get home from work…open the wine
Then….
Ingredients
1 small head cauliflower
50ml Extra Virgin olive oil
40g toasted almonds
100g feta cheese
1 bunch parsley chopped
60g green olives
Sourdough bread and butter to serve with.
Method
Turn the oven up to 220°C.
Remove the foil or lid from the braise. The lamb will be soft and tender. Return the uncovered lamb to the hot oven.
Line a separate baking tray, cut the cauliflower into florets. Coat with the olive oil and season with sea salt and pepper.
Roast the cauliflower for 20minutes or until the cauliflower is golden brown tender.
Remove the lamb from the oven. Sprinkle over the hot cauliflower, olives, parsley, feta and almonds.
Serve hot with sourdough bread.