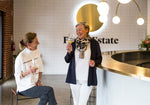 Boom!
What a way to spend the last few years, a kind of wine adventure - riding high in saddle, glass in one hand, bottle in the other and holding on for dear life! The whole while thinking, 'how lucky are we?' or at least something like that. We started Penley Estate back in 1998, and its always been fun, but have you ever had the feeling that maybe you could be doing it better, that it was time to throw a little caution to the wind. That's kind
of what we thought, it was that time.
So with as simple as a thought as that, we started making some changes...you may have noticed. We started writing down the 'daring to dream' and 'lets get a helicopter' visions for our wine company. We ripped o the band-aid and ignoring so much advice set o on our quest.
(still with glass in hand)
We have been fortunate so far; you have watched what we like to think has been a reinvigoration to our history, shared with us, and tasted the fruits of some of our not so minor changes. You may have noticed the small tweaks to the label, a splash of bling to the moniker, and even a different bottle shape.
But the big deal is the recruitment of a new winemaker. Kate Goodman has been a part of the family for 20 odd years and it has always been a dream to do something together. And what an impact her touch has had; Wine Spectator Top 100 in the USA for Phoenix, 98/100 from James Halliday's Wine Companion for the new flagship Cabernet wine Helios, cracker feedback from WineFront's Campbell Mattinson for Small Batch Project Cabernet Franc, a soon to be released Wild Ferment Shiraz, (which is another awesome Small Batch Project), and that's just the beginning...more to share on that soon though.
We are not quite sure just yet if we are an 'old new wine company' or a 'new old wine company' but the ride so far has been quite the adventure.
Thank you for sharing the ride with us, hope you are loving the wines, and we look forward to sharing more soon.
Girls in a Hurry
Bec & Ang Tolley
Hello from deep in the vineyard! My name is Hans Loder and I'm writing this as the new Vineyard Manager at Penley Estate. While only relatively new to the company, my start in July seems like an eternity ago with all the exciting happenings in the vineyard since then!
The season itself is tracking well with slightly warmer than average summer conditions helping the fruit to "catch up" in its ripening, after a cool (and at times frosty) spring. The fruit's looking good and I'm now keen to get it safely into the winery; albeit I'll have to be patient and wait another 6 - 8 weeks before it's time...
Important throughout, however, has been keeping focus on vineyard management at Penley Estate that nurtures the vineyard and its soil. In an ironic twist, this season we've been using modern technology to better target our traditional methods, starting with a comprehensive "EM38" soil survey undertaken in spring. This method adapted from oil and gas exploration uses measures of soil conductivity to pick differences in soil type and properties. We've combined this with the use of aerial imagery captured by drone, to map out each vine in the vineyard and measure how it's responding to the soil in its individual patch of Penley Estate. From this information and into the future, we'll be able to ensure that we maintain vineyard "balance" no matter what each season's conditions deliver.
So, not to be too confusing, combine all this modern management based on tradition, our hands on approach directed by aerial surveys and trials that manage vine canopies a little differently from the past and you'll understand why amongst the vineyard crew there's a lot of excitement as to what fruit (and therefore wines), Penley Estate will be able to deliver in vintage 2018!
Hans
February is a time of nervous anticipation.
We are so close to harvest that you can feel the excitement building. It is a time of preparing equipment, cleaning fermentation vessels, taking delivery of new barrels and getting mentally prepared.
Many hours are spent in the vineyard walking, watching, waiting. Towards the end of the month we may even begin tasting the berries and testing for sugar levels to give us an idea of when harvest will begin.
The 2017 vintage wines that haven't been bottled will get a thorough tasting this month not only to assess their progress but also to review all the trials and experiments that we did last season. It is a great opportunity to think about what did or didn't work and what we will repeat this season. The barrels will then be topped up to full to replace the 'angels share' before being packed safely away until we blend in readiness for bottling.
Kate